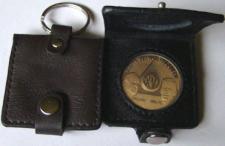 Folding Double Medallion Holder
BACK BY POPULAR DEMAND!!!
c7 k09
This cool double keychain medallion holder will display two of your favorite recovery medallions, be they inspirational or for various lengths of sobriety. This holder securely holds any medallion in place in a very fashionable way with a clear plastic front for awesome visibility.