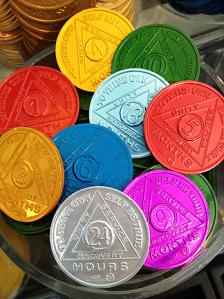 AA Aluminum Chip - Alcoholics Anonymous
$0.60 each
24 hours - 11 months & 18 Month
if no time selected 24 hour chip will be sent.
alumimumchips
These traditional aluminum sobriety chips with the AA triangle symbol celebrate the first year of sobriety. The length of sobriety ranges from welcome chips to 11 months. We also offer an 18-month sobriety chip. The Serenity Prayer is printed on the back of these AA aluminum chips.