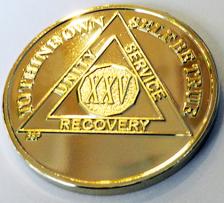 Gold Plated (14 K) Birthday Recovery Medallion
1 to 50 years Years over 50 are Specialty Orders.
$

12.95
Reg. Price $14.95
You Save $2.00
in stock
New
goldmedallion
Item Number: 90CA02 This gold plated medallion is designed with the year of the corresponding birthday and the triangle with the words UNITY, SERVICE, and RECOVERY around it. The back of the medallion has the Serenity prayer on it.