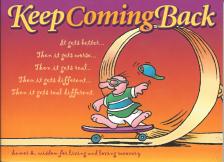 Keep Coming Back Gift Book
Humor & Wisdom for Living and Loving Recovery Gift Book, 160 pages.
HZ6608
A perfect gift for anyone in recovery, this book is full of profound wisdom and humor collected from many different 12-step meetings. Over 400 sayings and 54 illustrations guaranteed to inspire, amuse and uplift you.