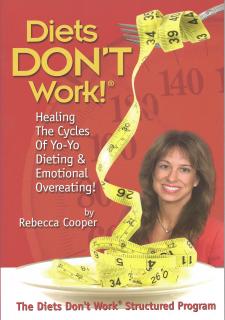 Diets Don't Work!
Softcover, 225 pages
Author: Rebecca Cooper
RB ISBN: 978-0-9728883-0-1
This book contains a proven, step-by-step program to heal the unconscious blocks behind disordered eating. Readers are led through a process of Self discovery and healing that makes it possible to naturally eat when hungry, make healthy food choices, and stop when full—permanently. This innovative program has successfully being used by treatment centers, therapists, and clients.