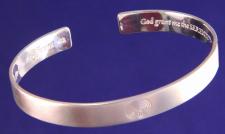 Sterling Silver Serenity Prayer Cuff Bracelet - Unisex
the Serenity Prayer
Flat simple silver piece on the outside. Sterling silver Serenity Prayer cuff bracelet is engraved on the inside.
dvb-FC06CC
This humble prayer has given comfort to many in need of guidance.
The Serenity Prayer is elegantly engraved onto the interior of an adjustable cuff baracelet. The Cretan labyrinth is on the exterior of the serenity prayer cuff. The sterling silver serenity prayer bracelet is perfect for men and women.