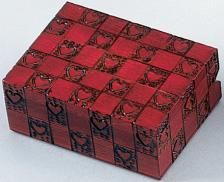 Small Red Heart Wooden God Box
Hand carving on top and all 4 sides.
Satin, mahogany finish.
$

14.95
Reg. Price $19.95
You Save $5.00
in stock
New
Mcor7031
This small maple red god box has tiny hearts hand carved all over it. People use God Boxes to pray, or send out positive intentions to the universe. Some people like to open the box and read these positive vibrations many months later to see which prayers were answered. It is also a perfect jewelry box. It comes all the way from Poland.Material: Wood. Origin: Poland. Volume: 1.7 cubic inch. Dimensions: 4 in. x 3 1/8 in. x 1-1/4 in.