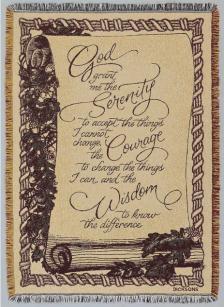 Serenity Prayer Tapestry Woven Throw
46" x 68" - 100% cotton
this heirloom quality throw will ensure years of beauty, warmth and comfort.
$

45.95
Reg. Price $52.95
You Save $7.00
in stock
New
dck FAB-920
Wrap up in the warmth and comfort of this beautifully woven afghan with the Serenity Prayer and peaceful glen design. Made of machine washable acrylic. This serenity prayer blanket measures 46" x 67".