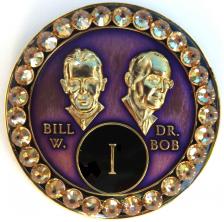 Purple Bill & Bob With Gold Crystals
Years 1 to 30, 35 and 40 only available at this time
Special order item.
$

25.95
Reg. Price $29.95
You Save $4.00
in stock
New
RM purple/goldcrystal/BB
This Tri-Plated medallion has gold crystals inlayed within the circle on the front. The "Rarely Have we Seen..." from chapter 5 of AA Big Book is in the back. A perfect recovery gift to celebrate that AA birthday/anniversary.