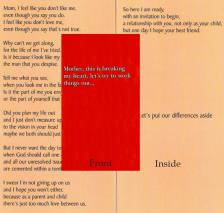 Mother Daughter Issues Card
Mother, this is breaking my heart, let's try to work things out...
NSMotherDaughter
This card is just right for the daughter wanted to heal a broken relationship with her mother and doesn't know how. The card suggests that no other relationship is more important than this bond. This card is vibrant red on the outside, yet soft pinkish orange on the inside.