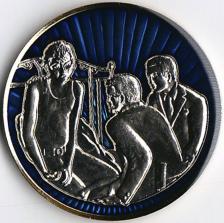 Man on a bed Enamel Medallion - Blue
OUT OF STOCK!!!
"The Meeting After the Meeting"
BSP:mob-blue
This beautiful enamel medallion depicts Bill W and Dr Bob bringing a meeting to a man on a bed. On the reverse is the phrase, "Recovery begins when one alcoholic talks with another alcoholic, sharing experience, strength, and hope.