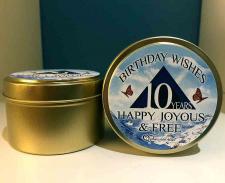 Birthday Wishes - Soy Candle
Birthday Wishes Candle.
Years 1 through 25 available.
TOH BDay candle
Celebrate your birthday or your loved one's with this soy wax scented candle made with pure cotton wicks. Perfect your daily meditaitons. Surround yourself with a beautiful scent. Hand poured in by Treasures of the Heart with the highest quality products.