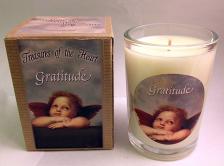 Angels Glass Soy Candle with God Box - Gratitude
Gratitude Glass Candle w/ God Box - 8 oz Natural Soy glass candle holder.
Gratutide Glass Candle. Light the candle and fill the box with your dreams, visions and prayers. Then surround yourself with a beautiful scent while you meditate and manifest prosperity. Hand poured in by Treasures of the Heart with the highest quality products.