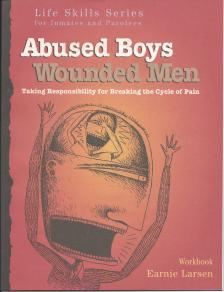 Abused Boys Wounded Men Workbook
With Earnie Larsen Workbook, 40 pp.
HZ1804
While society has enormous sympathy for abused children, the judgment for those children is less benevolent should they become adult offenders. Larsen observes, "People who have suffered abuse in childhood-especially if it's intense and constant--don't lead the same kind of lives as those who weren't abused. Not everyone lives with a howling lion in their spirits." For some in the series, these are the memories they carry as wounded men: -An eight-year-old repeatedly sexually abused by his brothers, then held by his ankles from a seventh-floor window for the fun of seeing him cry. -A six-year-old tied naked to a tree for bedwetting. -A seven-year-old locked in a closet for three days for talking back. Relentlessly realistic, Abused Boys, Wounded Men takes an unconventional stance that's also an unshakable reality: identifying and overcoming the root cause of adult crime can be more effective than simple incarceration. This workbook is part of the Abused Boys, Wounded Men Curriculum. In the Abused Boys, Wounded Men Curriculum, renowned author/lecturer Earnie Larsen interviews adult inmates to examine the role that childhood abuse played in their lives. Designed for use in community corrections and institutional settings, this six-week curriculum will help adult offenders identify instances of early abuse, recognize how it has impacted their lives, and learn how to live a productive life in spite of it.