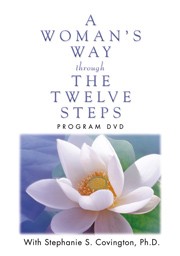 A Woman's Way Through The Twelve Steps Program DVD
Program DVD, Approx. 65 min.
Author: Stephanie S. Covington, Ph.D.
HZ7543
This new video is a component of A Woman's Way through the Twelve Steps Program and is also available as a stand-alone item to enhance your existing program. The video portrays the safe, nurturing, and empowering environment that is essential in order for women and girls to heal from addiction. It begins with an introduction to the program and is followed by Dr. Stephanie Covington leading real women in recovery through discussions and exercises.