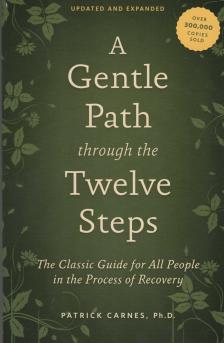 A Gentle Path through the Twelve Steps Updated and Expanded
The Classic Guide for All People in the Process of Recovery
Softcover, 340 pp
Author: Patrick Carnes, Ph.D.
HZ2558
A revised and expanded edition of the recovery classic by Patrick Carnes, Ph.D., a leading expert on addictive behaviors.
The Twelve Steps tap into the essential human process of change and will be regarded as one of the intellectual and spiritual landmarks in human history. --Patrick Carnes
It was out of his reverence and respect for the wisdom and therapeutic value of the Twelve Steps that Carnes wrote A Gentle Path through the 12 Steps, now a recovery classic and self-help staple for anyone looking for guidance for life's hardest challenges.
Hundreds of thousands of people have found in this book a personal portal to the wisdom of the Twelve Steps. With updated and expanded concepts and a focus on the spiritual principles that lead to lifelong growth and fulfillment, Carnes' new edition invites a fresh generation of readers to the healing and rewarding experience of Twelve Step recovery.