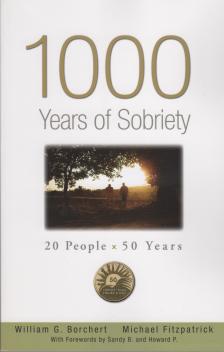 1000 Years of Sobriety
20 People x 50 Years
Softcover, 272 pp.
Author: William G. Borchert
Author: Michael Fitzpatrick
$

16.95
Reg. Price $17.95
You Save $1.00
in stock
New
HZ4246
Twenty people who have each been in recovery for more than fifty years tell their recovery stories and offer actionable advice to others in recovery. 1000 Years of Sobriety features the moving personal accounts of twenty men and women who have each remained sober for more than fifty years. These are the real "old timers," keepers of the wisdom, men and women from around the world who are among the dwindling generations who joined Alcoholics Anonymous when Bill W. was still alive, and whose very commitment to sobriety is a testament to the enduring power of the program.
The inspiring accounts collected here follow the time-tested formula used by millions of people who share their stories of hope in AA meetings every day: They tell us what they were like as active alcoholics, what triggered their decision to join AA, and the dramatic details of how they got sober--and how they've stayed sober for more than fifty years. Each story in this encouraging AA book concludes with sage words of advice for others in recovery.
Those who share their stories in 1000 Years of Sobriety are living proof that the human connection bonded by the Twelve Steps has unsurpassed powers, and that AA is a program for generations to come.