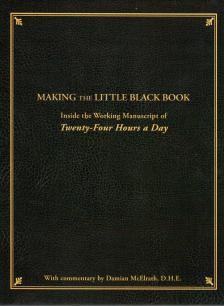 Making the Little Black Book
Inside the Working Manuscript of Twenty-Four Hours a Day
Hardcover, original manuscript with edits and commentary, 320 pp., 8-1/2" x 11" tall
Author: Damian McElrath, D.H.E.
HZ 4696
24 Hours A Day is a book with 365 days of thoughts, prayers and meditations to keep the alcoholic living a clean and sober life. The little black book has been a staple for alcoholics since 1948 with over nine million copies in print.