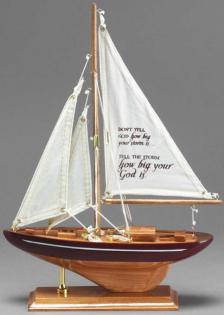 Inspirational Wooden Sail Boat "Don't tell God..."
OUT OF STOCK!!!
Measures 10 x 14 inches.
Some Assembly Required. Wood/Fabric. Burgundy with white accent stripe.

dck-SBW-211
This eye catching mini sailboat makes the perfect mantle piece for the home or looks great on a desk at work with an inspirational reminder. Its sails feature the quote: "Don't tell God how big your storm is... tell the storm how big your God is." Some assymbly is required.